This 6 Day Congo gorilla Safari is an opportunity to  track the mountain gorillas and their sister species; the low land gorillas which are bigger in size and occupy low lying areas of south Kivu in Kahuzi Biega NP. You will be able to explore the Virunga mountains to look at the mountain gorillas and later take a ferry to South Kivu province to visit the lowland gorillas; one of the subspecies of the Eastern gorilla. You will begin and end your adventure in Kigali while having an opportunity to explore the waters of L. Kivu
Trip summary
Day 1. Pick up from Kigali and Transfer to Goma.
Day 2. Transfer to Kibumba Tented camp.
Day 3. Gorilla Tracking
Day 4. Transfer to Goma and take a ferry to Bukavu (South Kivu province)
Day 5. Lowland Gorilla Tracking
Day 6: Transfer back to Kigali
Detailed Itinerary
Day 1. Pick up from Kigali and Transfer to Goma.
Your guide will pick you up from Kigali and drive you to the Congo border where your Congo guide will pick you up from and drive you to Goma for overnight at La Joie Plaza hotel.
Day 2. Transfer to Kibumba Tented camp.
Your Congo guide will pick you up in the morning and drive you to Goma Virunga National park office to get cleared and pick your gorilla permits as you proceed to Kibumba Tented camp at the edge of the park in the company of government soldiers.
Day 3. Gorilla Tracking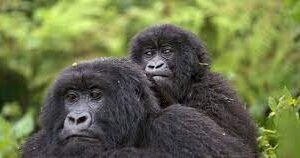 After an early breakfast, you will be driven to the park headquarters for briefing about the dos and don'ts while with the gorillas and proceed to track gorillas in Virunga NP on your first gorilla encounter. Once you catch up with them, you will be allowed a maximum of 1hr to observe and take photos. You will later return to your lodge for a late lunch and relaxation. Overnight at Kibumba Tented camp
Day 4. Transfer to Goma and take a ferry to Bukavu (South Kivu province)
In the morning, you will transfer back to Goma and catch a ferry to the Bukavu at the southern end of L. Kivu. Upon arrival, you will be transferred to Panaroma hotel.
Day 5. Lowland Gorilla Tracking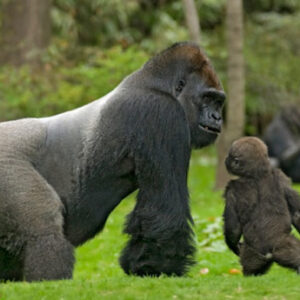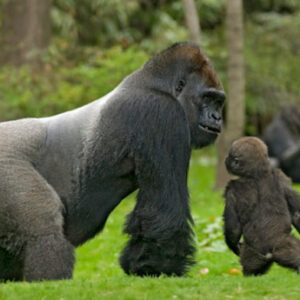 In the morning you will go for briefing at the Kahuzi Biega park headquarters and proceed to track the low land gorillas in these low land forests. Upon meeting them, you will be allowed to be with them for not more than 1hr before returning to your lodge. Unlike the mountain gorillas, these ones are somehow easier to trek since the terrain is not steep. Overnight at Panorama hotel.
Day 6: Transfer back to Kigali
In the morning, your driver guide will drive you to the Rusizi border where your Rwandan guide will pick you up from and drive you northwards to Kigali for drop off at the airport or hotel.
Price Inclusions
• 2 Gorilla permits
• Accommodation and meals
• Driver guide
• Enroute meals
• Bottled drinking water
• Park entrance fees
• Ranger guide fee
Price excludes
• Alcoholic drinks
• Flight and visas
• Driver guide tip
• Porter fee
• Other personal expenses
Inquire
Safari Lodges and Vehicles