The 4 days Congo gorilla tour includes an exploration of the jungles of the Virunga volcanoes in search for the giant mountain gorillas. Despite the ages of civil conflict and human encroachment on their habitat, the mountain gorillas have still survived at the verge of extinction thanks to great conservation efforts from governments and conservation bodies. Expect to trek through the jungles, hike the volcanoes and glance at the magnificent silverback gorilla as he trolls the forest majestically exhibiting his authority.
With the security situation in Congo, the tour will be a scheduled one and is usually done over the weekend since there are specific departure times where you have to be escorted by government soldiers to and from the park.
Trip summary
Day 1. Pick up from the Gisenyi border and transfer to Tchegera Island Retreat for overnight
Day 2. Transfer to Kibumba Tented camp.
Day 3. Gorilla Tracking
Day 4. Return to Kigali
Detailed Itinerary
Day 1. Pick up from the Gisenyi border and transfer to Tchegera Island Retreat for overnight
Your guide will pick you up from Kigali and transfer to the Congo border.  Your Congo guide will transfer you to Tchegera Island retreat for relaxation and overnight.
Day 2. Transfer to Kibumba Tented camp
Your Congo guide will pick you up in the morning and transfer to Goma Virunga National park office to obtain gorilla permits and then  proceed to Kibumba Tented camp at the edge of the park.
Day 3. Gorilla Tracking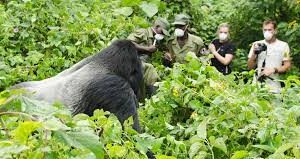 After an early breakfast, proceed to the park headquarters for briefing and later embark on gorilla trekking  in the Virunga NP. You will later return to your lodge for a late lunch and relaxation.
Day 4. Return to Kigali
In the morning,transfer back to the border where your Rwandan guide will pick you up from and return to Kigali.
Price Inclusions
• Gorilla permit
• Accommodation and meals
• Driver guide
• Enroute meals
• Bottled drinking water
• Park entrance fees
• Ranger guide fee
Price excludes
• Alcoholic drinks
• Flight and visas
• Driver guide tip
• Porter fee
• Other personal expenses
Inquire
Safari Lodges and Vehicles