Gorilla Trek Africa brings you a list of top tourist attractions in  Rwanda including cultural experience, fauna and flora. Historically Rwanda has been most famous for its natural attractions, namely its three National Parks;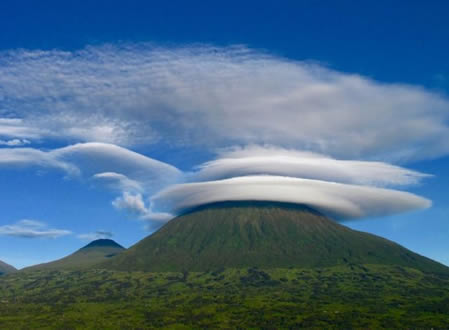 Volcanoes National Park on the slopes of the Virunga mountain range, famous for the country's biggest attraction, the mountain gorillas. This park is the most visited travel destination in Rwanda which receives a high number of travelers to see gorillas. Volcanoes National Park has 10 habituated gorilla families which guarantee 80 clients a chance to see gorillas on a single day. A permit to trek gorillas in Volcanoes National Park costs $1500 paid by all travelers.
Akagera National Park, defined by its "archetypal African savannah landscape," the Park is home to the big five game following the reintroduction of rhinos and lions. Guided day and night game drives in the savannah grasses of Akagera National Park offer an opportunity to see numerous wild animals grazing, browsing and hunting. More so, a boat cruise on Lake Ihema is a not miss on your Rwanda safari to Akagera National Park.
Nyungwe forest National Park, the largest single tract of montane forest in East and Central Africa with incredibly a rich biodiversity  is a hub for scientists, researchers and eco-travelers. Nyungwe Forest is a centre of chimpanzee trekking in Rwanda. Chimpanzee safaris in Nyungwe Forest National Park are normally accompanied by canopy walk which offers a great aerial view of the forest canopy and the neighboring Virunga Volcanoes.
Kigali City: This is the gateway to all travel destinations in Rwanda. YES, Kigali city is a first stop centre for all travelers arriving in Rwanda. The city is ranked the smartest  in Africa worth visiting. More so, a city tour through kigali takes you to different travel attractions and sites such as the Kigali Genocide memorial centre, Kigali Convention centre, Kimironko market and presidential palace among others. For those who want to spend an overnight, Kigali city has a variety of budget, midrange and luxury lodges, hotels and INNs offering you first class food and sleeping services at affordable rates.