The 14 Days Uganda Rwanda safari is a prefect package to explore Uganda the Pearl of Africa and Rwanda, the Land of a thousand hills. Go gorilla trekking in Bwindi Forest and Volcanoes National Parks with Gorilla Trek Africa. The 14 Days safari also involve exceptional game viewing in the Savannah parks of Murchison Falls, and Queen Elizabeth plus chimpanzee trekking in Kibale Forest National Park. You shall start in Kampala/Entebbe Uganda and end in Kigali Rwanda.
Trip summary
Day 1: Arrival Entebbe Airport and transfer to Kampala
Day 2: Transfer to Murchison falls
Day 3: Game drive and afternoon boat cruise
Day 4: Transfer to Kibale Forest NP
Day 5: Chimp trekking & a nature walk
Day 6: Transfer to Queen Elizabeth NP
Day 7: Game drive and boat cruise
Day 8: Game drive and transfer to Bwindi NP
Day 9: Gorilla trekking adventure
Day 10: Transfer to Volcanoes National Park
Day 11: Golden monkey tracking and transfer to Kigali
Day 12: Transfer to Akagera NP and boat cruise
Day 13: Full day game drives in Akagera NP
Day 14: Transfer back to Kigali for departure
Deatiled Itinerary
Day 1: Arrival Entebbe Airport and transfer to Kampala.
Upon your arrival, you will be welcomed by our company guide who will
transfer from Entebbe international airport to Kampala at your selected
accommodation. Dinner and overnight stay at Le petit Village (luxury)/ Cassia lodge (deluxe)/ Nexus Resort hotel (budget).
Day 2: Transfer to Murchison falls.
Early in the morning after your breakfast, you will be transferred to
Murchison falls national park with a scenic drive to the park and lunch en
route. You will have en route visit to Ziwa Rhino sanctuary for Rhino
tracking. Reach Murchison falls national park with a visit to the top of
the falls for a remarkable sight and sound of the Nile crushing through a
narrow gorge. Dinner and overnight stay at Pakuba Safari lodge (deluxe/ luxury)/ Red Chilli camp (budget).
Day 3: Game drive and afternoon boat cruise.
In the morning, you will go for an early morning game drive anticipating
to see a variety of animals like buffalos, elephants, lions and several
antelope species. You will later return to your lodge for breakfast and
lunch and later go for a boat cruise up to the bottom of the falls where
you may get views of Hippos and crocodiles. Return to the lodge in the
evening for overnight.
Day 4: Transfer to Kibale Forest NP.
In the morning, you will transfer to Kibale forest NP with a relaxed drive
through the verdant country side enjoying views of the crop plantations
and the rift valley escarpment. Overnight at Chimpanzee Guest house
(budget)/ Turaco Tree Tops (deluxe)/Primates lodge (luxury)
Day 5: Chimp trekking & a nature walk.
After an early morning breakfast, you will proceed to Kanyanchu to track
chimps and other primates within the forest. Also check out the grey
checked mangabey, L'Hoest monkey, red-tailed monkey and the vervet
monkeys. In the afternoon, you may take a nature walk to the Bigodi
wetland for primate and bird watching. Dinner and overnight at (Day 4)
Day 6: Transfer to Queen Elizabeth NP.
After your breakfast, you set off to Queen Elizabeth NP with a wide game
view en route where you may see animals like elephants, buffaloes among
others. Dinner and overnight at Mweya Safari Lodge/ Park View safari lodge (luxury)/ Enganzi lodge (deluxe/budget).
Day 7: Game drive and boat cruise.
You will wake up for a cup tea and there after meet your guide for an
early morning game drive through in the Kasenyi sector. In the afternoon,
have lunch that will be followed by a tremendous boat cruise along the
Kazinga channel for scenic views of the lake Edward and George, Hippos,
yawning crocodiles, several water birds like cormorants and Pied
kingfisher among the others may also be seen. Dinner and overnight stay.(Day 7).
Day 8: Game drive and transfer to Bwindi NP.
In the morning after a relaxed breakfast, set off for game Drives in
Ishasha sector in search of tree climbing lions. Depending on the day's
weather, you may be lucky to find them near or enter deep in search of
them. Proceed through the rolling beautiful hills of Kigezi to Bwindi NP
Overnight at Trekkers' Tavern cottages(budget)/ Bakiga lodge / L. Mulehe safari lodge(deluxe)/ Mahogany Springs / Agandi Eco lodge (luxury)
Day 9: Gorilla trekking adventure
You will head to the park headquarters after your breakfast with packed
lunch to be briefed about the dos and don'ts while with the gorillas then
proceed to track the gorillas. On return, you will be transferred across the border to Rwanda and proceed to Volcanoes NP. Overnight at Muhabura hotel (budget)/ Davinci lodge/ Gorilla Solution lodge (deluxe)/ Tiloreza Volcanoes Eco lodge / Five Volcanoes hotel)
Day 10: Transfer to Volcanoes National Park
Have an early morning breakfast and enjoy your last moments in the impenetrable Bwindi. Later one, cross over to Volcanoes National Park in north western Rwanda. Overnight stay at day 9
Day 11: Golden monkey tracking and transfer to Kigali
In the morning, you will go for briefing at the park headquarters and then proceed to track golden monkeys. On return, you will be transferred to Kigali for overnight at Five to Five hotel (deluxe)/ Kigali Serena hotel (luxury)
Day 12: Transfer to Akagera NP and boat cruise
In the morning you will be transferred to Akagera NP, upon arrival, take a game drive for wildlife viewing and in the afternoon, you will go for a boat cruise on L. Ihema for a chance to see hippos. Overnight at Ruzizi Tented lodge (luxury)/ Akagera Safari lodge (deluxe)
Day 13: Full day game drives in Akagera NP
You will have the whole day for game drives in Akagera NP, in the northern section of the park. Overnight and dinner at day 12
Day 14: Transfer back to Kigali for departure
In the morning, you will be transferred back to Kigali for drop off at your hotel or airport
End of tour
.[/restab]


Gorilla Trek Africa makes sure all our clients stay at the most relaxed during a safari with us, in clean and highly rated safari establishment in the different destinations Uganda, Rwanda, Kenya, Tanzania, Burundi, and DR Congo.
Hotels we use in Kigali
Our preferred high-end hotels in Kigali are Serena Kigali Hotel, Gorillas Golf Hotel, and Mille Collines Hotel, In the mid-range category, we have The Garr hotel and Lemigo Hotel.
Serena Kigali Hotel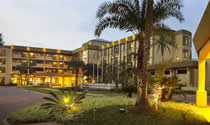 Five-star hotel in Kigali built around a polished granite atrium, showcasing the very best of Rwandese cultural art. Elegant hotel featuring an executive lounge and bar
Gorillas Golf Hotel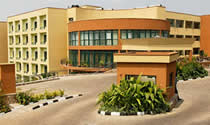 Hotel gorillas is a Five-star hotel situated within Kigali city. The charming establishment comprises of 31 fully furnished rooms, a cozy bar & restaurant, and a swimming pool.
Mille Collines Hotel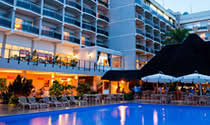 Located in Kigali, the historical hotel offers exceptional comfort to all its clients. Elegantly furnished rooms and suites with a mix of traditional and contemporary handicrafts and art.
The Garr hotel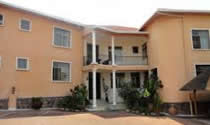 Located in Kigali, Garr hotel with beautiful and comfortable rooms featuring room service, phone facilities, hot water, airport pickup on request, Internet, laundry and drying cleaning services.
Five to Five Hotel Kigali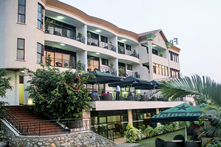 Beautiful hotel for all types of travelers offering visitors high-quality comfort and very clean Rwanda hospitality. Centrally situated in Kigali city, just 3 minuted drive from the Kigali international airport and hence a very convenient accommodation in Kigali.
Hotels we use in Volcanoes National Park
In this park, we have Gorilla Nest Lodge, Mountain Gorilla View Lodge in the High-end category. In the mid-range are the Le Bamboo Lodge and La Palme Hotel. In Budget Hotel Muhabura
Gorilla Nest Lodge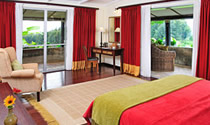 Situated along the foothills of the Virunga Volcano. The Lodge comprises of 2 cottages accommodating 4 guests in two large bedrooms each with a king size bed.
Mountain Gorilla View Lodge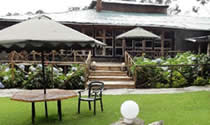 The lodge comprises of 30 cottages built on 4 acres of land on the slopes of Mt Sabinyo. The cottages are made of stone and thatch with en-suite facilities.
Le Bambou Gorilla Lodge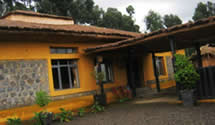 Le Bambou Gorilla Lodge is located in Rwanda's Northern province, in Volcanoes National park – comprising of 9 comfortable self-contained Bandas and a one family cottage.
La Palme Hotel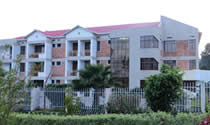 Three stars Hotel, located in Musanze City; offering Luxurious accommodation to business and Leisure tourists to Musanze. An exceptional dining experience awaits you.
Muhabura Hotel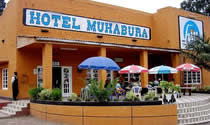 3 Star hotel situated 10 km from Volcano NP with 48 fully furnished rooms & 4 elegant suites with an intimate atmosphere to make clients comfortable. Located in Musanze district.
Nyungwe Forest national park
Nyungwe Forest has a limited range of accommodations. Our preferred luxury lodge is the magnificent and award-winning Nyungwe Forest Lodge. In the mid-range, we have Nyungwe Top View Lodge.
Nyungwe Forest Lodge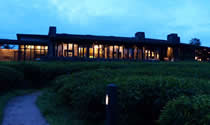 Nyungwe Forest Lodge is a 5-star hotel offering you supreme comfort and style amongst the rolling hills of Rwanda. Boasting twenty-two spacious villa rooms and two luxurious suites
Nyungwe Top View Lodge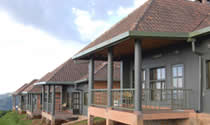 Nyungwe Top View Hill Hotel is located on the edge of Nyungwe Forest National Park. The property offers a total of 12 comfortable cottages featuring a welcome fireplace for cooler winter evenings.
Accommodations we use in Lake Kivu
At Lake Kivu, our high-end choice of the lodge is Lake Kivu Serena Lodge. In the mid-range section is Paladise Malahide, Hotel Gorillas Lake Kivu, and Palm Beach Hotel, among others.
Lake Kivu Serena Lodge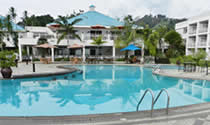 Located on the white sandy shores of Lake Kivu, the hotel is overlooking its own private beach and offers; 66 luxury rooms, executive suites and family accommodation, a panoramic restaurant.
Paradise Malahide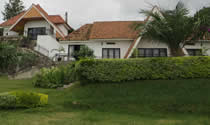 Paradise Malahide is a charming and friendly guesthouse with 10 rooms – and 4 apartments. It's well run, and with great food and a lovely location, we think it's excellent value for money.
Hotel Gorillas Lake Kivu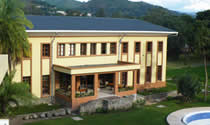 Gorillas Lake Kivu Hotel is located in the town of Gisenyi at the northern end of Lake Kivu in Rwanda. Very comfortable room, good swimming pool area garden area is very relaxing Staff are friendly.
Safari lodges we use in Akagera
In Akagera national park, we use Ruzizi tented camp for high end and Akagera game lodge for the budget.
Ruzizi tented camp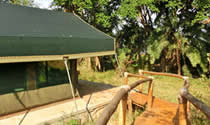 The Ruzizi Tented Lodge, a 14-bed tented eco-camp. Ruzizi is built on the shores of Lake Ihema, Rwanda's second largest lake, tucked away in a tract of unique riverine forest.
Akagera game lodge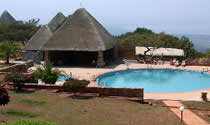 Akagera Game Lodge is located in Eastern Province; about 2 hours drive from Kigali. The Akagera Game Lodge has an attractive setting on a ridge overlooking Lake Ihema.