Uganda has put an end on the PCR test mandate for all travelers coming in and going out of the country. All fully vaccinated travelers are no longer subjected to mandatory covid19 testing at Entebbe International Airport. Honorable Ruth Achieng, the minister of Health in Uganda, made this announcement.This relief comes after Uganda registered a gradual decline in new positive Covid19 cases across the whole country. The removal of mandatory covid19 testing at Entebbe International Airport saves travelers of the testing fee between 150,000 UGX and 210,000 UGX, which they have been incurring upon arrival and exit. The removal of mandatory testing will undeniably encourage more travelers to come and visit the Pearl of Africa with no disturbance.
What are the new guidelines?
• For all fully vaccinated travelers, there is no more requirements for negative PCR test done within 72 hours before departure or arrival at Entebbe International Airport.
• Travelers are all required to present the certificate of full vaccination at the airport. This applies to all people above 5 years
• Travelers who are not fully vaccinated or those who are not vaccinated at all are asked to present the negative PCR test results taken 72 hours before departure or arrival
Are Standard Operating procedures still Valid in Uganda?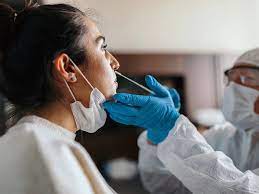 YES, whereas the mandatory PCR testing a has been removed at Entebbe International Airport, the ministry of health still encourage observation of Standard Operating Procedures by all travelers coming into Uganda.These include:
1. Wearing Masks when in a public place with large crowds. However, you are now free to remove the facemasks when you are in a free and private place.
2. If you are going for gorilla trekking or any other primate safari in Uganda, a seven-meter distance is highly recommended for the safety of the endangered primates.
3. Temperature screening is still done at entry points
4. Hand washing and sanitizing is still encouraged
The Status of Covid19 Vaccination in Uganda
As of 4th May 2022, 10.3M Ugandans have been fully vaccinated while 20.2M doses have been given. 22.4% of Uganda's total population has been therefore fully vaccinated. The ministry of health continues to urge Ugandans who have not been vaccinated to embrace the campaign and fight against the deadly Covid19.
How to book a uganda safari?
Gorilla Trek Africa is a reliable travel agent to book a Uganda safari with. We offer tailored gorilla safaris to Bwindi Impenetrable Forest National Park, chimpanzee tracking in Kibale Forest and game viewing experiences in savannah parks at discounted rates.
You can contact us for any travel advice and booking guide to Uganda, Rwanda, Kenya, Tanzania and the Democratic Republic of Congo.