Which sector to trek Gorillas in Bwindi Impenetrable Forest National Park
To trek mountain gorillas in Bwindi, one must visit any of the sectors that make up the national park. Unlike other gorilla national parks, Bwindi comprise of 4 sectors in the south, north, and east. Each sector is different from the other in terms of location, accessibility, altitude and the trekking experience. Different gorilla families have been habituated in each sector and no gorilla group can trek in both sectors. However, despite the different locations of these sectors, connecting from one sector to another is easy and quick. Travelers can, therefore, spend a night in one sector like Buhoma and trek gorillas in the Ruhija the next morning without getting late. A gorilla tour in Bwindi and therefore be done in any of the sectors but the experience is undeniably memorable. Also, enjoy the uniqueness of each sector, some travelers have visited both sectors on different occasions hence providing them with an in-depth understanding of each sector and its distinct features. Altogether, Bwindi shelters over 480 mountain gorillas, which is half of the world's total population.  Gorilla Trek Africa offers you info  on the four sectors that make up Bwindi impenetrable forest national park:
Buhoma sector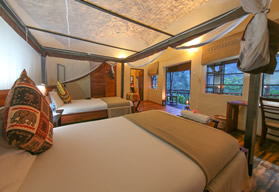 Located in the northern part of Bwindi, Buhoma is the most visited sector of the national park compared to other sectors. The ease of access from kabala town and kihihi airstrip make Buhoma the best part of Bwindi to visit at all times. Interestingly, Buhoma is the first sector where gorilla tourism was first done when Mubare family (Bwindi's oldest gorilla family) was habituated in 1992 just a year after the establishment of Bwindi forest into a national park. Also, Buhoma is close to Queen Elizabeth national park via ishasa sector home to the famous tree climbing lions hence an added advantage for travelers unlike other sectors in the Far East and south. Besides Mubare family, Buhoma is a home to Habinyanja habituated in 1997 and Rushegura habituated in 2000 all available for trekking. Buhoma has an interesting history being a forest sector where the first group of travelers toured in 1993 when gorilla tourism had just been introduced. Also, Buhoma is known for the most luxurious lodges, which provide excellent food and sleeping services to travelers. These loges include Mahogany springs, Bwindi forest lodge, and Buhoma lodge among others. The First-class lodges are one of the reasons for the popularity of Buhoma sector compared to other sectors of the park. Besides gorilla trekking, travelers to Buhoma also enjoy community visits to Batwa and Bakiga communities at the edge of the forest, hiking trails which include Munyaga trail, Waterfall trail, Rushura trail, River lvi trail and Muzabajiro loop trail among others. Also, Buhoma is good for bird watching being a shelter for several bird species that can be is a home to rare bird species such as Blue Turaco and many others. Fortunately, connecting to Buhoma is quick and easy with optional routes such as Kampala-Ntungamo-Rukungiri-Kihihi-buhoma, kampala-kabale-Kanungu-Buhoma and kampala-Kabale-Ruhija-Buhoma. Travelers can use any of these routes depending on where he/she is connecting.
Rushaga sector
Located in the southern part of Bwindi impenetrable forest national park, Rushaga is home to 5 gorilla families, which make it best for gorilla trekking. Rushaga is easily accessed from kisoro hence the nearest to connect from Kigali via Chanika border. The habituated gorilla families include Busingye, Bweza, Nshongi, Mishaya and kahungye all available for trekking. Also, Rushaga offers gorilla habituation and two families named Bushaho and Bikyingi are currently going through training. More still, Rushaga offers cultural visits to Batwa communities, forest walks and bird watching among other activities. Accommodation in Rushaga includes gorilla safari lodge, gorilla valley lodge, Ichumbi lodge, Bwindi jungle lodge, Chameleon hill lodge and gorilla safari camp among others. These provide luxury, midrange and budget accommodation services to travelers at affordable prices. Additionally, Rushaga is home to lake Mutanda hence an opportunity for travelers to a boat cruise at the lake hence an added advantage.
Nkuringo sector
Also in southern Bwindi, Nkuringo is a home to Nkuringo family available for trekking. At times, Bushaho gorilla family crosses from Rushaga to Nkuringo Nkuringo sector is located on higher altitudes, which make it strenuous to hike to see the gorillas. The sector is therefore recommended for the young travelers and the physically fit that can manage strenuous hikes. Interestingly the summit of the sector provide travelers with clear and close views of the Virunga volcanoes in Uganda and Rwanda which make it district and worth visiting. Accommodation in Nkuringo sector includes clouds mountain gorilla lodge for luxury, Nkuringo safari lode for budget and Nkuringo gorilla camp for midrange. Cultural visits to Bakiga communities is also a not miss for travelers in Nkuringo sector.
Ruhija sector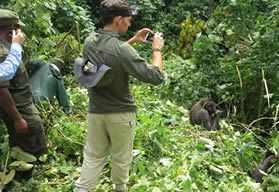 Ruhija sector is located in the Eastern part of Bwindi forest national park and is home to Kyaguriro family, Bitukura family, and Oruzogo family all available for trekking. Ruhija stands at 2,350 meters above the sea level hence one of the coldest areas in Bwindi. For those interested in hiking, Ruhija offers the most strenuous and adventurous hiking trail to Rwamunyonyi peak hence a not miss. While in Ruhija expect to meet other primates such as elephants and several monkey species, which make your stay in the area interesting. Lodges in Ruhija include Bakiga lodge, gorilla mist lodge, Ruhija gorilla resort, and Ruhija gorilla safari lodge, which all provide luxury and budget accommodation services to travelers at fair prices.
In conclusion, Bwindi impenetrable forest national park is the best for gorilla trekking. Book a gorilla safari now, visit ay sector and enjoy a life-changing encounter with the critically endangered mountain gorillas in their natural habitats.