What Makes Rwanda a Unique Gorilla Trekking Destination in Africa?
When Primate researcher Dian Fossey decided to dwell here and interact with the mountain gorillas in the slopes of the volcanic Virunga Massif, she famously became the first human to closely relate with this kind of species in the wild. Thanks to the movie version of Dian Fossey's book, Gorillas in the Mist that helped to draw more attention from people worldwide about the existence of this incredibly intimate wildlife experience. Gorilla tracking is the only wildlife experience where you can get out of the car and move closer to the animals (gorillas), something that cannot be done amongst lions, elephants, buffaloes, rhinos or the big five for that matter.
Rwanda's gorilla tracking encounters take place in Parc National des Volcans (Volcanoes National Park) a beautiful and misty national park on the slopes of the volcanic Virunga massif, spanning three countries including Uganda and the Democratic Republic of Congo. Together with Uganda's Bwindi Impenetrable National Park, it remains the only place in the world to view these magnificent creatures, the largest of the great apes, in their natural habitat.
Today there is a total of about 1,000 of the threatened mountain gorillas left in the wild. Volcanoes National Park in Rwanda is ranked on top of all the gorilla trekking destinations in the region. It is considered the best managed, with strict rules, well-trained rangers and trackers, and a permitting process that allows a maximum of just 80 guests that are arranged in groups of 8 each visiting one of the 10 available gorilla families per day. This is evidenced by the growing demand from fast-developing economies such as China, Russia and Brazil in addition to the traditional visitors from the U.S. and Europe. Although Rwanda doubled the price of their gorilla-tracking permit earlier in 2017 from $750 to $1,500, they are still becoming increasingly difficult to get given this ever-increasing demand.
To ensure full satisfaction from the gorilla trekking experience, some travelers decide double down and book two days of permits to maximize their visit since each interaction is so unique, and there are almost a dozen different groups in the park. On top of trekking the gorillas, many also add a day of Golden Monkey trekking in the park, which is much less expensive (under $100), and the other popular activity is a guided — and somewhat arduous — three-hour hike of Karisimbi volcano summit to Dian Fossey's grave. The region sits at or above 7,000 feet of elevation and all of the activities require at least a moderate level of exertion. One day of gorilla trekking typically involves 2-6 hours of hiking at altitude over steep terrain, sometimes through thick jungle, something that calls upon you to be physically prepared.
For your accommodation, there are several lodges around the park headquarters, where all treks begin, and the most popular quality ones include the Sabyinyo Silverback Lodge and the Virunga Lodge.
Since permits are so hard to come by, most travelers work around the dates they can get, and then take whatever lodging is available but this can be improved with the help of well organized local tour agents like Gorilla Trek Africa and Africa Adventure Safaris. These agents are also a one-stop center for all the other wildlife safaris in the region and they can combine your gorilla trekking with other traditional (and usually much less expensive) lower elevation African wildlife safaris in nearby Uganda, Tanzania or Kenya.
Volcanoes National Park is two hours from Kigali International Airport in Rwanda's capital of Kigali. From the lodge, you drive to the park welcome center very early in the morning, and then the actual treks begin 30-45 minutes away on four-wheel drive roads.
Due to the close proximity of both Rwanda and Uganda's gorilla tracking destinations, some travelers can also visit the Ugandan side of the massif that has Mgahinga and Bwindi Impenetrable National Parks, where permits are less expensive at just $600. The only difference that may make you stick to Rwanda is that the infrastructure this side is less well developed, and the hiking is a bit tougher.
RELATED TOURS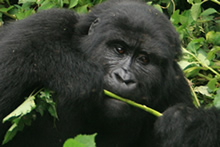 A 7 days Gorilla trekking in Volcanoes National Park, the home of mountain gorillas in Rwanda. This is the best trip for primates enthusiasts!
Enjoy gorilla trekking in both countries – Rwanda & Uganda. Do not miss golden monkeys tracking in either Mgahinga or Volcanoes national parks.
Gorilla safari to Uganda's Bwindi national park and wildlife viewing along the Kazinga channel and on a game drive in Queen Elizabeth national park.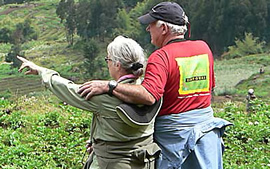 The 6 Days Uganda Gorilla safari takes you to Bwindi national park, Kibale national park for chimps trekking & Murchison falls national park for an amazing view of the waterfalls.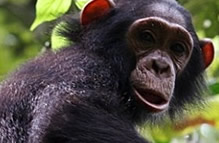 Adventurous taking you to see Uganda's prime National parks like Queen Elizabeth for wildlife, Bwindi for gorilla tours, Kibale for Chimps
A Grand Safari in Uganda that includes Uganda Culture, Gorilla Trekking, chimps trekking, Murchison falls & Lake Mburo tour. This is one of the most rewarding trips offering much to see in less time!
Explore DR Congo for gorilla trekking in Virunga National park; go hiking Nyiragongo Volcano and track gorillas again in Volcanoes, Rwanda.
To book a wildlife safari in Uganda and Rwanda,