After many years of waiting, Uganda Wildlife Education center received a new ambulance to ease the treatment and rescue of animals in poor health state. Uganda wild animals have often fallen victims of accidents due to over speeding in the national parks, others have been hurt by snares set by poachers while others hurt and killed by local people during human-wildlife conflicts. The ambulance is a fruit of its kind delivered by lovers of wildlife supported by the paradise wildlife park in the United Kingdom. This donation was a fruit of the 11-year partnership between the Uganda Wildlife Education Centre and Paradise Wildlife, which also helps to train UWEC's staff in wildlife conservation and treatment. With no doubt, the introduction of the animal ambulance is the greatest achievement of the Uganda Wildlife Authority. It gives hope for the wellbeing and good health of wild animals at UWEC and Uganda at large. Just like human beings, wild animals have a right to live happily, healthy and also treated with dignity.
About the newly introduced Animals' ambulance
The 50,000 pounds wild animal Ambulance was bought at a cost of shs 243m and is stationed with a strong lighting system, which will enable rescuers to move to different animals habitats even at night times when its dark. Also, the animal ambulance has a dash camera, which helps in tracking the movement of the vehicle especially in dangerous places and other custom-built amenities.
Which animals will be transported in the ambulance?
Firstly, the newly introduced ambulance will help to carry wildcat species such as leopards, lions, and cheetahs. Also, the ambulance will help in carrying injured and sick chimpanzees, monkeys, baboons and other primate species to locations of treatment and rehabilitation. Between the years of 2014 to 2019, Uganda Wildlife Education center managed to rescue up to 411 birds, 180 reptiles and 284 mammals from different parts of the country. In case of any need, the Uganda Wildlife Education center is always called in to capture crocodiles, wild elephants, and other animals, which flee to communities becoming a threat. UWEC is also responsible for recovering wild animals especially parrot, monkey, and birds, which may be illegally kept as pets in people's homes.
What to be done?
However, the UWEC management urged the government to invest in buying more ambulances so as to improve the health of wild animals and promote sustainable tourism in the Pearl of Africa. Honestly, one ambulance will not be enough to rescue all animals in the whole of Uganda.
What to expect?
Uganda tourism expects an improvement in the health of wild animals at the Uganda Wildlife Education center and in all national parks all over the country. Also, some personnel in the search and rescue department will get jobs. This rescue team will help to search and recover wild animals, which will have been endangered by illicit wildlife activities and diseases.
Challenges facing wildlife conservation in Uganda
Human-wildlife conservation is a serious challenge facing wildlife conservation in Uganda. Some local people are harsh to wildlife animals. Some animals have been beaten to death while others critically injured by local people living near national parks.
Also, poaching wildlife for meat, ivory, hides, and skins has been a great challenge affecting wildlife conservation in Uganda.
Loss of habitat is yet another challenge facing wildlife conservation in Uganda. National parks and other protected areas have continuously been encroached by local people seeking to expand land for farming and settlement.
Other wild animals to see at UWEC
Travelers visiting the Uganda Wildlife Authority have a chance to see and interact with numerous animals rehabilitated there. The list of animals seen at UWEC include
• Chimpanzees
• Cape Buffalos
• Golden Monkeys
• Hippopotamuses
• Leopards
• Antelopes
• Elands
• Lions
• Rhinos
• Elephants
• Giraffes
More so, the Uganda Wildlife Education center hosts reptiles such as
1. Crocodiles
2. Mambas
3. Cobras
4. Gaboon Viper
5. Forest Cobra
6. Jacksons Chameleon
7. Lizards
8. Crocks among others
9. Tortoise
Birds at Uganda Wildlife Education Centre
Besides animals, Uganda Wildlife Education Centre is home to numerous birds, which include:
• Giant Kingfisher
• African fish eagle
• Great Blur Turaco
• Peacock
• Shoebill stork
In conclusion, the introduction of the animal ambulance at the Uganda Wildlife Education Centre is a great achievement for the tourism industry in Uganda. The ambulance will support and promote the good health of wild animals at UEC and the whole of Uganda.
RELATED TOURS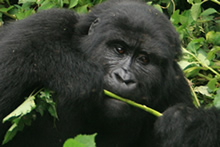 A 7 days Gorilla trekking in Volcanoes National Park, the home of mountain gorillas in Rwanda. This is the best trip for primates enthusiasts!
Enjoy gorilla trekking in both countries – Rwanda & Uganda. Do not miss golden monkeys tracking in either Mgahinga or Volcanoes national parks.
Gorilla safari to Uganda's Bwindi national park and wildlife viewing along the Kazinga channel and on a game drive in Queen Elizabeth national park.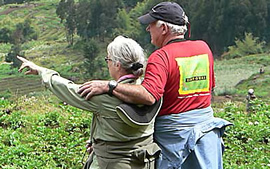 The 6 Days Uganda Gorilla safari takes you to Bwindi national park, Kibale national park for chimps trekking & Murchison falls national park for an amazing view of the waterfalls.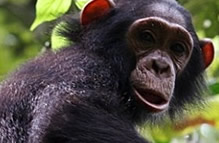 Adventurous taking you to see Uganda's prime National parks like Queen Elizabeth for wildlife, Bwindi for gorilla tours, Kibale for Chimps
A Grand Safari in Uganda that includes Uganda Culture, Gorilla Trekking, chimps trekking, Murchison falls & Lake Mburo tour. This is one of the most rewarding trips offering much to see in less time!
Explore DR Congo for gorilla trekking in Virunga National park; go hiking Nyiragongo Volcano and track gorillas again in Volcanoes, Rwanda.
To book a wildlife safari in Uganda and Rwanda,