Coming travelers have continuously asked when is the best time to trek gorillas in Rwanda and so in neighboring Uganda. The time to visit gorillas depends on a client's likings. However, Whichever time you choose to visit, the magical feeling of trekking gorillas never fades and it's new every morning. Rwanda gorilla tours are done all year round offering travelers a chance to meet these gentle giants at any time of the year. Gorilla Trek Africa, your number one travel company in Rwanda offers you a comparison (advantages and disadvantages) between seasons so you can choose when to visit gorillas. Gorilla trekking seasons are:
Dry season – Peak Season
This period is between the months of June, July, August, September, October, December, January and February. The season is known as the peak season associated with high visitor numbers.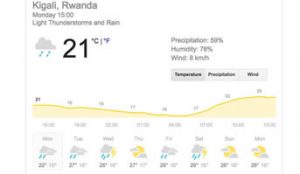 Most travelers prefer this season and gorilla permits tend to sell out due to high demand. You are therefore advised to book and reserve gorilla tickets as early as 6 months earlier to avoid disappointments. Similarly, endeavor to reserve a hotel/lodge room earlier enough. If you are trekking gorillas in Bwindi Impenetrable forest Uganda, remember to book a lodge in the sector you are trekking from.
Advantages of trekking gorillas in the dry season
• Dry forest grounds hence easy trekking
• Clear photography
• Less forest undergrowth, it's easy to trek through
• Gorillas move to low altitudinal areas hence easy to find
Disadvantages
• Crowds –Many travelers
• Limited gorilla permits
• Limited accommodation (high rates in the peak season)
• Dusty roads
Wet/ Rainy season – Low season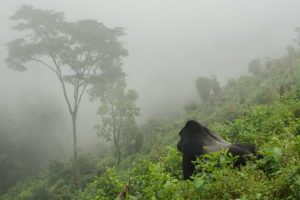 This is between the months of November, March, April, and May. The period is normally rainy and muddy. Trekking gorillas in the wet season is undeniably strenuous but the experience is more fun and adventurous for the brave. Interestingly, rain normally pours at night and sunsets in immediately after the rains. Rains have never disrupted gorilla trekking.
Advantages of trekking gorillas in low season
• Fewer crowds in the jungle
• Discounted hotel/lodge services
• Discounts on transport
• Availability of gorilla permits
• Last-minute bookings
• Pocket-friendly services
Disadvantage of visiting gorillas in the rainy season
• Slippery/ muddy grounds
• Dull photography
What's the cost of trekking gorilla?
The cost of gorilla trekking in Uganda, Rwanda, and Congo differ. This depends on the cost of gorilla permits and other added factors. Rwanda gorilla permit cost is $1500 each while Uganda gorilla cost is currently $600 expected to rise by $100 to $700 with effect from 1st July 2020. Congo sells the cheapest gorilla permits at $450 each but the continuous civil wars and political instabilities hinder gorilla tourism in the Democratic Republic of Congo. The high costs of Rwanda gorilla tour costs have made Uganda a favorite gorilla destination for many travelers today. Most travelers currently fly to Rwanda and trek gorillas in Uganda via Rwanda Uganda borders of Cyanika in Kisoro and Katuna in Kabale district.
What to pick for gorilla trekking
Whether you trek gorillas in the wet or dry season, there are certain essentials you must pack to ensure a peaceful and enjoyable gorilla encounter. The must pack things for gorilla trekking include among others:
1. Rain jacket for the unpredicted forest weather
2. Hiking boots/shoes for easy hiking
3. Gardening gloves to protect your hands
4. Ponchos and sweaters for the cold forest weather
5. Bottled drinking water
6. Insect repellents to prevent insect bites
7. Energy giving snacks to keep you strong
8. Long pants tucked into stockings
9. Camera and extra batteries
Whichever time you choose to visit gorillas in Uganda or Rwanda, you will certainly get a lifetime experience. Gorilla encounters remain the best wildlife experience, which attracts the highest number of travelers from all parts of the world. Contact Gorilla Trek Africa today; book your trekking safari to Uganda, Rwanda, and Congo at affordable rates offering you a lifetime experience.
RELATED TOURS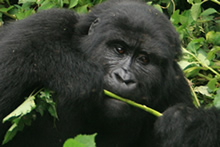 A 7 days Gorilla trekking in Volcanoes National Park, the home of mountain gorillas in Rwanda. This is the best trip for primates enthusiasts!
Enjoy gorilla trekking in both countries – Rwanda & Uganda. Do not miss golden monkeys tracking in either Mgahinga or Volcanoes national parks.
Gorilla safari to Uganda's Bwindi national park and wildlife viewing along the Kazinga channel and on a game drive in Queen Elizabeth national park.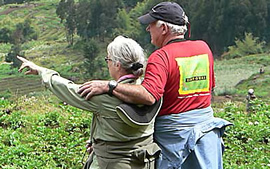 The 6 Days Uganda Gorilla safari takes you to Bwindi national park, Kibale national park for chimps trekking & Murchison falls national park for an amazing view of the waterfalls.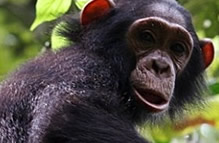 Adventurous taking you to see Uganda's prime National parks like Queen Elizabeth for wildlife, Bwindi for gorilla tours, Kibale for Chimps
A Grand Safari in Uganda that includes Uganda Culture, Gorilla Trekking, chimps trekking, Murchison falls & Lake Mburo tour. This is one of the most rewarding trips offering much to see in less time!
Explore DR Congo for gorilla trekking in Virunga National park; go hiking Nyiragongo Volcano and track gorillas again in Volcanoes, Rwanda.
To book a wildlife safari in Uganda and Rwanda,