Game safaris to Akagera national park have presently become common among Rwanda safaris. Yes, most travelers to Rwanda now opt to visit Akagera National park to enjoy the "Big Five Game". Just like in other game parks, travelers to Akagera National park are required to pay the park entrance fees. It is so wise for every traveler planning a lifetime safari to Akagera National park to first confirm how much park entrance fee he/she is ought to pay. The entrance fee to Akagera National park differs depending on the status of a client and the kind of activity he/she intends to do. The park entrance fee applies to the traveler and vehicle valid for a given period of time. Check the park entrance fees to Akagera National Park with Gorilla Trek Africa Limited
Entry permit for clients:
Vehicle entrance fee to Akagera National park
Vehicles to Akagera National park are charged separately from clients. The vehicle entrance fee is valid for 24 hours after which the responsible person is required to pay again if he/she is still in the park. The same applies to clients. Vehicle entrance fee to Akagera National park include:
Rwandan/East African registered small vehicles /mini buses are charged 12 USD equivalent to 10,000 RWF each.
Buses/ overland vehicles registered in Rwanda are charged 24 USD or 20,000RWF each vehicle.
Foreign registered small vehicles/Minibusses cost $40 while the overlanders, buses, and minibusses foreign-registered are charged 100 USD.
Guiding fee in Akagera National park
If you come on a self-drive tour to Akagera National Park, there is a guiding fee you ought to pay. Half-day game driving through the park costs 25 USD while full-day costs 40USD. The park management gives you an experienced driver-guide who helps you spot various animals and explain unique features about each spotted animal.
Half-day game drives run by Akagera Management Company cost for four hours costs $180 for seven people while full day game drives cost $280 USD. The cost is inclusive of the game drive open vehicle, driver-guide and guiding services. Night game drives operated by Akagera Management Company costs 40 USD for adults and 25USD for children done for 2 hours. This cost is inclusive of a driver-guide, game car for a minimum of 2 people and maximum of 7 people. night game drives are scheduled from 8: am to 8:30 pm in the southern art of Akagera park.
if you want to do fishing at Akagera River, you are required to pay $25 for adults and $15 for children. Day and night fishing is allowed.
A sunset boat trip at Lake Ihema and Akagera River costs $45 for adult travelers and $30 for children. The boat cruise lasts for an hour and each boat carries a maximum of 8 people. If you want to do a private boat cruise, you pay $180 per boat available at non scheduled times between 10:30 am to 1:30 pm. Boat trips are done four times a day starting from 7:30 to 8:30am, 9:00 to 10:00am, 3:00 to 4:00pm and 4:30 to 6:00pm.
Camping costs $25 per person per night giving you a clear feeling of the natural environment. This fee is inclusive of security and accessibility to the camping ground.
For those who want to do the behind the scenes experience, it costs $25 per person for a minimum four people lasting for 1:30 hours. The Group of eight people and above pay $180 for the behind the scenes experience.
Cultural experiences to local communities adjacent to the park cost $30 for adults and $20 for children for a half-day experience. Here local people entertain visitors with traditional songs, dances, and songs which tell about traditions, beliefs, and customs making a traveler feel like part of the community.
More so, there is a walk the line experience in which travelers walk 7 kilometers along the fence of Akagera National park for 2 hours. This experience costs #30 for adults and $20 for children.
Annual Passes
If you have ample time in Uganda, you can opt for annual passes which give travelers access to the park for a full year. Interestingly, travelers buying annual passes are given 10% which is an added advantage.
An annual pass for Rwandan/East African Citizens costs 95,000RWF foe singles, 115,000RWF for coups and 150,000 RWF for a family.
Children aged below 5 years are allowed to visit and stay in Akagera park free of charge. children between 6 to 12 years have a discounted rate while children of 13 years and above are charged as adults.
Whereas park entrance fees to Akagera National park is payable per day, travelers staying in the park for more than a week can only pay for the first three nights and spend the rest of the nights without paying the entrance fee. This is a strategy by Rwanda Development Board to encourage more visitors to Akagera National Park.
RELATED TOURS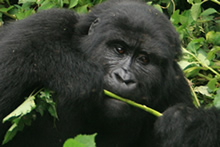 A 7 days Gorilla trekking in Volcanoes National Park, the home of mountain gorillas in Rwanda. This is the best trip for primates enthusiasts!
Enjoy gorilla trekking in both countries – Rwanda & Uganda. Do not miss golden monkeys tracking in either Mgahinga or Volcanoes national parks.
Gorilla safari to Uganda's Bwindi national park and wildlife viewing along the Kazinga channel and on a game drive in Queen Elizabeth national park.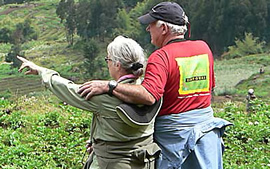 The 6 Days Uganda Gorilla safari takes you to Bwindi national park, Kibale national park for chimps trekking & Murchison falls national park for an amazing view of the waterfalls.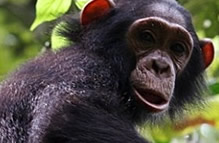 Adventurous taking you to see Uganda's prime National parks like Queen Elizabeth for wildlife, Bwindi for gorilla tours, Kibale for Chimps
A Grand Safari in Uganda that includes Uganda Culture, Gorilla Trekking, chimps trekking, Murchison falls & Lake Mburo tour. This is one of the most rewarding trips offering much to see in less time!
Explore DR Congo for gorilla trekking in Virunga National park; go hiking Nyiragongo Volcano and track gorillas again in Volcanoes, Rwanda.
To book a wildlife safari in Uganda and Rwanda,