Rwanda has 10 gorilla families habituated in Volcanoes National park. Every day, each gorilla family is visited by a group of eight travelers. At the start of each gorilla trekking day, different travelers are assigned different gorilla families to trek. The criteria followed when allocating gorilla families is our concern in this documentary. Gorilla Trek Africa offers you the best guide on how gorilla families are allocated to different groups of travelers. Unlike in the past when gorilla families would be allocated randomly, various factors are now considered when assigning gorilla families. Gorilla family allocations are normally done during the pre gorilla trekking briefing at Kinigi park headquarters. Factors considered when allocating gorilla families in Rwanda and Uganda include:
Physical fitness and hiking ability
One's physical fitness and hiking abilities determine the gorilla family he/she will trek. When allocating gorilla families, park rangers consider travelers physical fitness.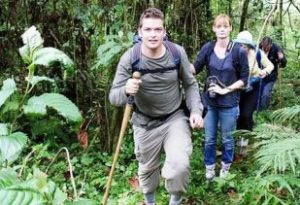 Physically fit travelers are given the hard to trek, gorilla families, while those physically challenged are given easy to trek gorillas. Travelers with disabilities are advised to hire sedan chairs and porters to carry them to and from seeing mountain gorillas. Travelers with any form of the physical challenge are reminded to disclose it to the park rangers as early as possible. Also, it's advised you indicate your physical abilities and challenges in your gorilla trip inquiry with your travel agent before confirmation. However, regardless of one's physical abilities, Gorilla Trek Africa strives to get suitable gorilla families for all her clients ensuring a memorable gorilla encounter with no difficulty. Our well-known and experienced driver guides go an extra mile to ask for a suitable gorilla family to the park rangers during gorilla family allocation.
The number of gorilla treks
If you have more than one gorilla treks, make sure you trek different gorilla families on different days. Do not accept trekking the same gorilla family more than once. Trekking two different gorilla families give you a magical experience and a comparison in behaviors and social characters of different gorilla groups in Volcanoes National park.
Age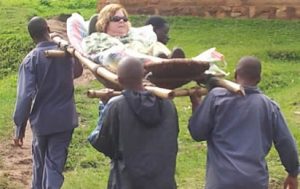 Some one's age is one determinant of which gorilla family to trek. The elderly at 50 years and above are normally given easy to trek gorilla families while the energetic adults are given difficult to trek gorilla families. Travelers are encouraged to tell their right age to park rangers so as to get suitable gorilla families. Aging travelers are given gorilla families in low altitudinal areas easily found after a short trek of 30 minutes on a good day. If you re aged 50 tears but physically fit, you can request for a medium gorilla trek to ensure a memorable experience.
Availability of gorilla permits
The allocation of gorilla families in Volcanoes National park also depend on the availability of gorilla permits on a particular day. If all gorilla permits are booked, eight people will visit a gorilla family. However, if there are fewer visits on a particular day, the number of travelers visiting a gorilla family can be reduced to 4 people instead of 8 people on a single day.
Gorilla families in Rwanda
Rwanda has 10 gorilla families which have been habituated for trekking. Each gorilla family is different and unique from the other in terms of family numbers, the story of its formation and lifestyle. Gorilla groups in Volcanoes National park Rwanda include Kwitonda, Agashya, Bwenge, Sabyinyo, Umubano, Hirwa, Susa A and Susa B gorilla families. 8 people per day visit one gorilla family.
Rwanda Gorilla permits
Rwanda gorilla trek permit price is $1500 per permit paid by all travelers including Rwanda citizens. You are required to have a valid gorilla permit to trek gorilla in Volcanoes National park. Contact Gorilla Trek Africa to book gorilla permit in Rwanda. Alternatively, book direct with Rwanda Development Board, a government body responsible for gorilla tourism and conservation in Rwanda. Booking is recommended as early as 6 months to the trekking date due to high demands for Rwanda
Packing list for gorilla trekking in Rwanda
Travelers to trek mountain gorillas in Rwanda are advised to pack essentials to ensure a memorable gorilla encounter. The appropriate packing list for gorilla trekking in Rwanda include:
• Hiking boots to ease movement through muddy forest grounds
• Gardening gloves to protect your hands from mud and thorny bushes
• Rain jacket for the unpredictable forest weather
• Sweaters and Poncho for warmth
• Long-sleeved shirts/blouse to protect your arms
• Long pants tucked into stockings
• Sunglasses and glasses for protection from direct sun
• Enough drinking water
• Walking stick for support
• Energy giving snacks to keep you strong through the hiking
• Walking stick
• Insect repellant
• First aid kit
Book a gorilla safari to Rwanda today, reserve your Rwanda gorilla permit in time, trek the endangered mountain gorillas in Volcanoes National park and enjoy this once in a lifetime experience.
RELATED TOURS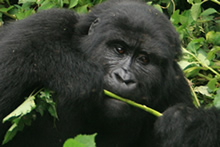 A 7 days Gorilla trekking in Volcanoes National Park, the home of mountain gorillas in Rwanda. This is the best trip for primates enthusiasts!
Enjoy gorilla trekking in both countries – Rwanda & Uganda. Do not miss golden monkeys tracking in either Mgahinga or Volcanoes national parks.
Gorilla safari to Uganda's Bwindi national park and wildlife viewing along the Kazinga channel and on a game drive in Queen Elizabeth national park.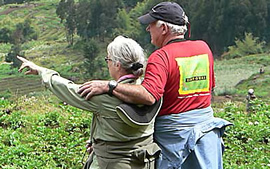 The 6 Days Uganda Gorilla safari takes you to Bwindi national park, Kibale national park for chimps trekking & Murchison falls national park for an amazing view of the waterfalls.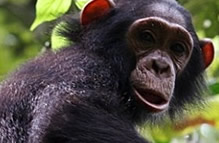 Adventurous taking you to see Uganda's prime National parks like Queen Elizabeth for wildlife, Bwindi for gorilla tours, Kibale for Chimps
A Grand Safari in Uganda that includes Uganda Culture, Gorilla Trekking, chimps trekking, Murchison falls & Lake Mburo tour. This is one of the most rewarding trips offering much to see in less time!
Explore DR Congo for gorilla trekking in Virunga National park; go hiking Nyiragongo Volcano and track gorillas again in Volcanoes, Rwanda.
To book a wildlife safari in Uganda and Rwanda,