Are you planning a honeymoon safari in Africa? Do not look beyond Rwanda! Honeymoon safaris in Rwanda have presently become popular given the peaceful state of the country, natural attractions, excellent hotels/lodges, hospitable people and a variety of amazing adventurous and relaxed travel experiences. Rwanda has undergone important transformation over the 28 years after genocide against Tutsi in 1994. Kigali the capital city is one of the cleanest cities in Africa due to strong policy for environmental and wildlife conservation. The city has also attracted international hotel brands including Marriot and Radisson Blu along with Kigali Convention Center (KCC) which has positioned Rwanda as MICE destination. In that regard, Rwanda offers a conducive environment to enjoy honeymoon vacation due to natural beauty and wildlife adventure including gorilla trekking safaris, Big 5 safari in Akagera among other factors including hotels with modern amenities, safety and security both in terms of handling the covid-19 pandemic and crime. Nicknamed as the "Land of a Thousand Hills" Rwanda is marked by mountain terrain making it a destination for adventurous honeymoons. Besides her limited natural resources, the country has only 4 protected areas including Volcanoes, Nyungwe Forest, Akagera and Gishwati Mukura National Parks. The road network from Kigali is mostly tarred and driving in Rwanda is seamless.
Places to go for honeymoon vacation in Rwanda
Lake Kivu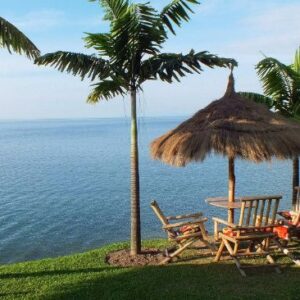 Lake Kivu is 58 sq.km (1.5 hour drive) south-west of Musanze town the gateway for gorilla treks in Volcanoes National Park. Those in need of relaxation after gorilla trekking can visit one of the three towns including Rubavu town (Gisenyi), Kibuye city in Karongi district and Cyangugu on the northern shores of Lake Kivu, one of the seven African Great Lakes (AGL). Situated in the western arm of the Great East African Rift Valley, Lake Kivu is Rwanda's largest water body on the border Democratic Republic of Congo. Boat rides offer a great opportunity to explore the lake including hiking up to Napoleon Island where the view is most spectacular of the terraced hills and to see the endangered fruit bats. Gisenyi is the most developed resort town with Rubavu Public Beach where swimming in the lake is done from. The town can be explored by motorcycle (motor taxi) during day and boasts several lakeside hotels and lodges with private beaches and swimming pools. Furthermore, the Congo-Nile biking trail starts in Gisenyi town and stretches for 227 sq.km to Ruzizi town on the southern edge of the lake. The trail offers a chance to explore rural regions of Rwanda with less cars. Biking excursions can be arranged depending on time and interests.
Volcanoes National Park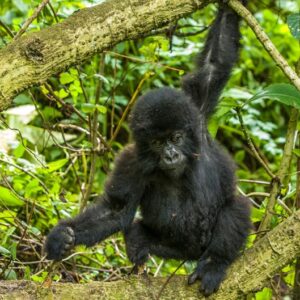 Volcanoes National Park is 105 sq.km (2-hour drive) north of Kigali capital city in Musanze town Northern Province. Stretching for 168 sq.km, the protected area forms part of the Virunga Massif – a habitat for roughly 603 endangered mountain gorillas. Rwanda has 10 gorilla families habituated for gorilla treks at Kinigi the headquarters of Volcanoes National Park. The gorilla permit cost is $1500 per person available for booking through Rwandan Development Board (RDB) or tour operator. Gorilla trekking for honeymoon safari in Rwanda is supported by the presence of a variety of accommodations in and around the park near Musanze town with room amenities suitable for couples including spa services, cocktails, private dining experience, swimming pools and brunch. Those looking to visit a gorilla family without accompany of other visitors can make a request earlier through the park authorities. To be granted such an opportunity, expect to incur extra cost of permits for a group of 6 of 8 people supposed to visit a gorilla family per day. Alternatively, you can opt to travel during the wet season (April to May and October to November) when there's likely less people. Gorilla trekking in Rwanda will occupy half day of which the rest of the evening can be used to visit the Gorilla Guardians Village located on the edge of the park. Visiting the cultural village is one way to support the ex-poachers who used to poach gorillas. The center offers authentic taste of Rwandan history and cultural heritage through taking part in some of the interactive activities including banana beer brewing activity, local food preparation, Rwandan traditional dance performances, playing roles of king and queen at a grass thatch hut, bow and arrow shooting. Furthermore, those intending to spend several days in Musanze can do more activities in and outside Volcanoes National Park including Dian Fossey Hike, Karisimbi and Bisoke volcano hiking, visiting Muhanga sacred forest walk, boat riding and canoeing on the twin lakes of Bulera and Ruhondo.
Honeymoon safari in Akagera National Park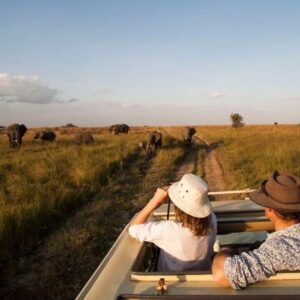 Wilderness lovers can visit Akagera National Park where the Big 5 African mammals now thrive including over 30 lions and eastern black rhinos. The park is 113 sq.km (3-hour drive) east of Kigali capital city and can also be accessed by air through Akagera Aviation. The park is the only savannah protected area of Rwanda situated in a low lying elevation of 1286 m – 1718 meters above sea level. River Akagera flows through the 1122 sq.km savannah dominated area creating a large wetland with several lakes including Lake Shakani where you can do sport fishing tour. Due to permanent water and pastures, Akagera supports rich biodiversity including Big 5 animals, hippos, Nile crocodiles and over 500 species of birds. There are other animals you may encounter including spotted hyena, Masai giraffe, impala, eland, plains zebra, eland, oribi, bush and waterbucks. The park offers wildlife viewing safari activities including day and night game drives, boat safaris, sport fishing on Lake Shakani, bird watching, bush walk and community walks. There are lodges to stay for honeymoon safari in Akagera National Park including Magashi Camp (luxury lodge)set on in the north-eastern part of the park overlooking Lake Rwanyakazinga), Ruzizi Tented Camp and Mantis Game Lodge. Our 3 Days Akagera game tour offers you chance to se the big five game roaring in the open plains.
The African Parks visitor center offers 'behind the scenes' tour of the park's history. At the time when it was gazetted in 1934, Akagaera National Park covered 2500 sq.km and was home to a large population of African wild dogs and over 200 lions. During and after the genocide in 1994 refugees invaded the park and poaching led to extinction of the predators and loss of habitat. In 2009 the Rwandan government created a plan to restore the lost wildlife through partnership with African Parks Network a non-governmental organization based in South Africa. Subsequently, seven lions were reintroduced in 2015, 18 eastern black rhinos in 2018 and 30 southern white rhinos in 2021. Overtime, the lion population in Akagera National Park has grown to over 35 individuals. Visiting the park helps to support wildlife conservation efforts in Rwanda.
Nyungwe Forest National Park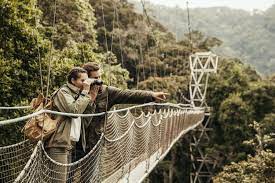 Nyungwe Forest National Park is 220 sq.km (5-hour drive) south-west of Kigali capital city and 56 sq.km (1.5 hours drive) east of Kamembe airport in Cyangugu city Ruzizi district on the southern shores of Lake Kivu. The afro-montane tropical forest covers 970 sq.km and forms part of the western arm of Great East African Rift Valley (Albertine Rift Valley) in central Africa. The eco-region is rich in biodiversity. In particular, Nyungwe Forest is home to 12 primate species including chimpanzees, black and white colobus monkeys, Hamlyn's monkeys, red colobus monkeys, olive baboons, velvet monkeys, blue monkeys and red-tailed monkeys and over 300 species of birds of which 16 are Albertine Rift Endemics. The park offers honeymoon holiday in the African jungle with a chance for chimpanzee trekking adventure. In addition to chimps, the canopy walkways rising 60 meters above sea level and offers spectacular aerial views of the montane forest. Places to stay in Nyungwe forest are found on the edge of the park surrounded by green tea plantations including the luxury One & Only Nyungwe House and Nyungwe Top View Hill Hotel. Gisakura Guesthouse offers budget honeymoon accommodation with swimming pool. Honeymoon in Nyungwe forest can also include hiking with several trails that explore the deeper parts of the forest including Kamiranzovu swamp and waterfalls. The Congo-Nile trail is a biking route with less vehicles and offers a chance to explore rural villages.
In general, honeymoon safaris in Rwanda are a not miss on your African vacation. Gorilla Trek Africa helps you customize a suitable Rwanda honeymoon tour package to suit your interests, budget and time at pocket friendly rates.