Gorilla Filming – Gorilla Safaris Rwanda Uganda
Do you want to capture a live film of mountain gorillas in their natural habitat? Shoot a live video of mountain gorillas on your gorilla filming safari in any gorilla national park in Uganda and Rwanda. Gorilla filming is one form of gorilla safaris you should not miss out on African Safari. Much as many people do gorilla trekking, they have on several occasions missed capturing a live video. Gorilla filming is an exceptional experience which gives travelers a chance to capture live all the activities of mountain gorillas, their social interactions in their respective families. Just like trekking, mountain gorilla filming can be done in any of the four gorilla destinations which are the Virunga conservation area and Bwindi impenetrable forest national park. Mountain gorilla filming was introduced as a strategy to promote gorilla conservation and increase awareness to all people in all parts of the world concerning the endangered species.
The cost of gorilla filming
Just like in gorilla trekking, travelers intending to do gorilla filming must buy gorilla filming permits from tourism bodies. However, gorilla filming permit is quite expensive but the experience is worth the penny. If you are booking a gorilla filming safari, you are required to buy the Gorilla permits for the entire Gorilla group that your going to visit for Gorilla Filming activity in volcanoes , The maximum number of people/filming crew is 8 Members that will be visiting the gorilla family in order to make sure that the park is gazetted to be visited only by the Filming crew in order to film at maximum (ie The Gorilla Permit costs $1500 Per Person *8 permits is 12,000). Rwanda charges a fee of USD 5000 for gorilla filming in Volcanoes national park paid to the Rwanda Development Broad.
Lastly, you are also required to deposit USD 2000 with Rwanda Development Broad which will be refunded to you once you have brought back the CD copy to the Development Broad to prove that the filming was for Tourism use and promotion of the Mountain Gorillas in Volcanoes National Park. It should be noted that gorilla Filming for the Price of 19,000 USD is valid for one Day and it can be altered by the Rwanda Development Broad.
Where to get the filming permits
Government bodies responsible for wildlife conservation and tourism in each of the three countries issue out trekking and filming permits. These bodies include the Uganda wildlife authority (UWA) in Uganda, Rwanda development board in Rwanda and the responsible body in the Democratic Republic of Congo. The permit can be purchased directly from these bodies or else through any trusted tour operator-offering gorilla filming and trekking packages.
Pre-filming discussion
An earlier discussion with the responsible government bodies is always recommended. This discussion concerns logistics and other activities to easily determine the actual costs. Filmmakers are reminded to send their filming requests as early as three weeks in advance before the actual filming date. Participants are also reminded to fill and submit their application forms to the responsible government bodies as early as possible.
Dressing code
Just like in trekking, filming and video shooting involve hiking in the slippery dense tropical forests. The recommended dressing include hiking boots, and gloves, sunglasses, long sleeved shirts and pants, rain gears, hats to protect from direct sun. Additionally, walking sticks and porters are very helpful though not compulsory. Porters carry baggage, which makes filming easier and also provide support in case of any sliding and falling.
Conclusively, therefore, mountain gorilla filming is the best wildlife encounter that all travelers should take part in. The venture is very helpful in the promotion of conservation and tourism.
CHECK OUR TOURS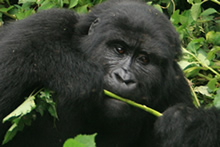 A 7 days Gorilla trekking in Volcanoes National Park, the home of mountain gorillas in Rwanda. This is the best trip for primates enthusiasts!
Enjoy gorilla trekking in both countries – Rwanda & Uganda. Do not miss golden monkeys tracking in either Mgahinga or Volcanoes national parks.
Gorilla safari to Uganda's Bwindi national park and wildlife viewing along the Kazinga channel and on a game drive in Queen Elizabeth national park.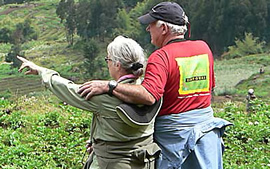 The 6 Days Uganda Gorilla safari takes you to Bwindi national park, Kibale national park for chimps trekking & Murchison falls national park for an amazing view of the waterfalls.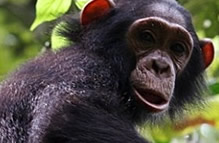 Adventurous taking you to see Uganda's prime National parks like Queen Elizabeth for wildlife, Bwindi for gorilla tours, Kibale for Chimps
A Grand Safari in Uganda that includes Uganda Culture, Gorilla Trekking, chimps trekking, Murchison falls & Lake Mburo tour. This is one of the most rewarding trips offering much to see in less time!
Explore DR Congo for gorilla trekking in Virunga National park; go hiking Nyiragongo Volcano and track gorillas again in Volcanoes, Rwanda.
To book a wildlife safari in Uganda and Rwanda,