A valid visa is a must-have for every traveler visiting Uganda, Rwanda, Kenya, and other travel destinations. Travelers are advised to apply and get visas before traveling or else apply for Visa o the arrival date. A visa allows you stay in a new destination for a specific period of time. Travelers coming to East Africa have a chance to use a single East African tourist visa which allows one to visit and stay in Uganda, Rwanda, and Kenya for a specific period of time. A single East African tourist visa allows you to visit all tourist attractions in Uganda, Kenya, and Rwanda without necessary applying for extra single entry Visas. In other words, you only apply once and you are allowed to cross over borders to Rwanda, Uganda, and Kenya. On reaching the borders, travelers just present the East African visa and they are allowed to entre. However, if you go out of these three countries, the East African visa expires and hence you must apply for a new one when entering again. Therefore an east African visa as soon as a traveler visits another country which not part of the East African Visa. More so, the visa allows you to stay in these three countries for 90 days after which it expires. if you are staying for more than 90 days therefore, you will apply for a new east African visa to allow you to stay longer.
How to Apply for an East African Visa
You can apply for an East African visa either manually upon arrival or online before the traveling date. Visa application forms can be got from the immigration offices of each respective country or at the embassies. Also, you can apply for an East African visa at the airport upon your arrival. An East African visa must be obtained from the country a traveler is visiting first.
What is required to apply for an East African Visa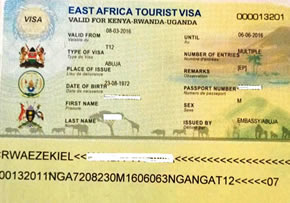 In addition to filling in the East African visa application form, travelers are required to have the following:
1. Colored passport-sized photos with no cap, glasses and no headscarves
2. Application letter from the country you are visiting first
3. A letter that shows your financial status that can sustain your stay in these countries
4. $100 as the application fee
5. Other travel documents for clarification
NOTE: East African residents are allowed to use their National Identity Cards.
On applying, travelers fill out the online application form after which you receive the document via email and then enter the destination you want to visit.
Other travel documents you need to present when applying for an East African Visa include
• The yellow fever vaccination Card
• Return flight ticket indicating the dates
• Application date for a tourist visa. This is commonly asked in Kenya
Cost of the East African Visa
A single east Africa tourist visa costs USD 100.00
The processing fee is USD 45.00
Allowing multiple numbers of entries
Processing time is 2 Business days
If you want to buy an entry e-Visa,
It costs USD 30.00
The processing fee is USD 25.00
Allowing single entry
Processing time is 24 hours
In general, a single East African visa is a necessity for all travelers visiting Uganda, Rwanda, and Kenya. Contact Gorilla Trek Africa today, apply for an East African visa today and enjoy a combined east African safari on a single trip.
RELATED TOURS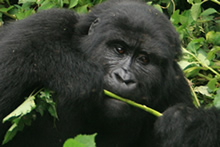 A 7 days Gorilla trekking in Volcanoes National Park, the home of mountain gorillas in Rwanda. This is the best trip for primates enthusiasts!
Enjoy gorilla trekking in both countries – Rwanda & Uganda. Do not miss golden monkeys tracking in either Mgahinga or Volcanoes national parks.
Gorilla safari to Uganda's Bwindi national park and wildlife viewing along the Kazinga channel and on a game drive in Queen Elizabeth national park.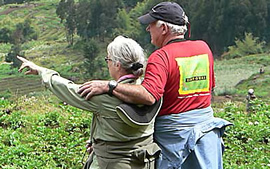 The 6 Days Uganda Gorilla safari takes you to Bwindi national park, Kibale national park for chimps trekking & Murchison falls national park for an amazing view of the waterfalls.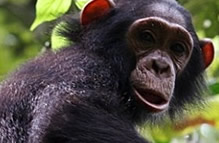 Adventurous taking you to see Uganda's prime National parks like Queen Elizabeth for wildlife, Bwindi for gorilla tours, Kibale for Chimps
A Grand Safari in Uganda that includes Uganda Culture, Gorilla Trekking, chimps trekking, Murchison falls & Lake Mburo tour. This is one of the most rewarding trips offering much to see in less time!
Explore DR Congo for gorilla trekking in Virunga National park; go hiking Nyiragongo Volcano and track gorillas again in Volcanoes, Rwanda.
To book a wildlife safari in Uganda and Rwanda,