Trekking to the summit of the mystical Mount Rwenzori is one of the adventurous travel experiences you should not miss on your Uganda safaris. Standing at 5,100 meters above the sea level, Mount Rwenzori ranks as the third highest mountain in Africa after Mount Everest and Mount Kilimanjaro. Reaching the snow capped Margherita (highest peak of Rwenzori) is a dream come true for mountaineering travelers. Also, hiking through the tropical forest of Rwenzori National parks which shelters a variety of birds and wild animals is an added advantage, which make the whole experience more enjoyable and memorable. Many prominent mountaineers have been seen hiking mount Rwenzori to enjoy this lifetime experience. The recent visitor is Tim Marcarthney, an Australian mountaineer who has also hiked to the summit of Mount Everest reaching 8,848 meters above sea level. Mount Everest is the highest mountain in the world. Also, Maneuvering through glacier rocks, crags, rock cliff overlooking the lakes in the valleys make this experience fun. With no doubt, hiking mount Rwenzori is one of the world's beautiful treks. The peak of Mount Rwenzori rises above the clouds and its glaciers are believed to be a source of river Nile, the longest river in the world. Mount Rwenzori is also called the Mountains of the moon.
Stop points/Huts on Mount Rwenzori
Hiking to the summit of Mount Rwenzori is not a one-day thing, It takes 8 to 10 Days to reach Margarita which requires overnights on the mountain slopes. Various huts, Stop points have been established on the slopes to offer travelers with sleeping services during the hiking trip. The huts on Mountain Rwenzori include:
1. Nyabitaba Hut at 2651 meters
2. John Matte Hut at 3505 meters
3. Bujuku Hut at 3962 meters
4. Kitandara Hut at 4223 meters
5. Elena Hut at 4541 meters
6. Guy Yeoman Hut
The 9 Days Mt Rwenzori hiking safari is the best package to explore and enjoy this magical and conical mountain. The summary of hiking mount Rwenzori is as follows:
• Day 1: Transfer from Kampala to Kasese
• Day 2: Nyakalengija – Nyabitaba Hut
• Day 3: Nyabitaba to John Matte Hut
• Day 4: Jonh Matte hut to Bujuku Hut
• Day 5: Bujuku Hut to Kitandara Hut
• Day 6: Kitandara Hut – Guy Yeoman Hut
• Day 7: Guy Yeoman hut to Nyabitaba
• Day 8: Nyabitaba to Nyakalengija Hike
• Day 9: Drive back to Kampala
How to prepare for Mountain Rwenzori Hiking tour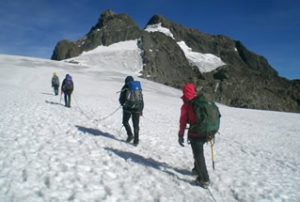 You cannot wake up one day and start hiking mountain Rwenzori. The adventurous venture needs mental and physical preparedness. Firstly, you have to book this tour through any of the companies offering mountaineering services to Rwenzori Mountain. Rwenzori Mountaineer9ing services are the renowned agent for hiking Rwenzori hiking safaris. More so, ensure to do physical exercises to ensure you are physically fit for this strenuous hike. Among the recommended physical exercises include jogging, walking, hiking and stretch ups among others. Your mind should be ready to conquer his high mountain. A traveler who begins a hike when not mentally ready stands high risks of failing to reach the summit.
What to pack for hiking Mount Rwenzori
Travelers are advised to pack all the essentials for your hiking adventure is to be a success. The packing list for hiking mount Rwenzori includes among others:
1. Light hiking boots/shoes to ease movements
2. Sleeping bag
3. Rain jackets for the unpredictable rainfall on the mountains
4. Sweaters/jumpers for the cold nights
5. Hat to protect your head from direct sun
6. Sunglasses for the eyes
7. Energy giving snacks 9boiled eggs, bananas, bread, apples among others)
8. Bottled drinking water
Tips for Hiking Mount Rwenzori
Check the tip/guide for hiking mount Rwenzori with Gorilla Trek Africa. These include:
• Understand the risks involved (Altitude sicknesses)
• Ensure you are physically fit
• Have a fully equipped packing list
• Carry your first aid backups
• Know your limits
• Hike at a low pace. Do not rush. It gets you tired after a short period of time.
Other mountaineering destinations in Uganda
Besides Mt Rwenzori, the Pearl of Africa has other hiking destinations, which offer you with different memorable hiking experience. Other mountaineering areas in Uganda include Mt Elgon, Mt Gahinga, Mt Sabyinyo, Mt Gahinga, and Mount Moroto among others. Some of these mountains like Mt Gahinga can be hiked in one day, giving short time travelers a chance for hiking experiences.
In conclusion, hiking to the summit of Mount Rwenzori is a lifetime adventurous experience you should not miss out in Uganda. Contact Gorilla Trek Africa for booking and hiking advice, go and enjoy this magical experience