Gorilla Trek Africa brings you a list of top travel activities and attractions in all parts of the country to meet, satisfy and even exceed your travel exceptions in this land of a thousand hills. Historically Rwanda has been most famous for its natural attractions, namely its three National Parks;
Volcanoes National Park on the slopes of the Virunga mountain range, famous for the country's biggest attraction, the mountain gorillas. This park is the most visited travel destination in Rwanda which receives a high number of travelers to see gorillas. Volcanoes National Park has 10 habituated gorilla families which guarantee 80 clients a chance to see gorillas on a single day. A permit to trek gorillas in Volcanoes National Park costs $1500 paid by all travelers.
Akagera National Park, defined by its "archetypal African savannah landscape" The Park is home to the big five game following the reintroduction of rhinos and lions. Guided day and night game drives in the savannah grasses of Akagera National Park give you chance to see numerous wild animals grazing, browsing and hunting. Moreso, a boat cruise on Lake Ihema is a not miss on your Rwanda safari to Akagera National Park
Nyungwe forest National Park, the largest single tract of montane forest in East and Central Africa with incredibly a rich biodiversity – A hub for scientists, researchers and eco-travelers. Nyungwe Forest is a centre of chimpanzee trekking in Rwanda. Chimpanzee safaris in Nyungwe Forest National Park are normally accompanied by canopy walk which offers you great aerial views of the forest and the neighboring Virunga Volcanoes
Kigali City: This is the gateway to all travel destinations in Rwanda. YES, Kigali city is a first stop centre for all travelers arriving in Rwanda. The city is ranked the smartest city in Africa worth visiting. More so, a city tour through kigali takes you to different travel attractions and sites such as the Kigali Genocide memorial centre, Kigali Convention centre, Kimironko market and presidential palace among others. For those who want to spend an overnight, Kigali city has a variety of budget, midrange and luxury lodges, hotels and INNs offering you first class food and sleeping services at affordable rates
Rwanda reached its peak tourism year in 1984 with 39,000 visitor arrivals. 10 years later, Rwanda witnessed one of
CHECK RELATED TOURS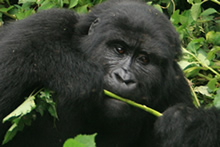 A 7 days Gorilla trekking in Volcanoes National Park, the home of mountain gorillas in Rwanda. This is the best trip for primates enthusiasts!
Enjoy gorilla trekking in both countries – Rwanda & Uganda. Do not miss golden monkeys tracking in either Mgahinga or Volcanoes national parks.
Gorilla safari to Uganda's Bwindi national park and wildlife viewing along the Kazinga channel and on a game drive in Queen Elizabeth national park.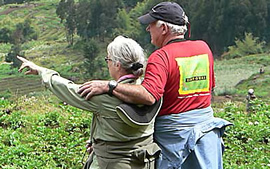 The 6 Days Uganda Gorilla safari takes you to Bwindi national park, Kibale national park for chimps trekking & Murchison falls national park for an amazing view of the waterfalls.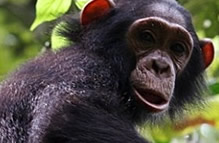 Adventurous taking you to see Uganda's prime National parks like Queen Elizabeth for wildlife, Bwindi for gorilla tours, Kibale for Chimps
A Grand Safari in Uganda that includes Uganda Culture, Gorilla Trekking, chimps trekking, Murchison falls & Lake Mburo tour. This is one of the most rewarding trips offering much to see in less time!
Explore DR Congo for gorilla trekking in Virunga National park; go hiking Nyiragongo Volcano and track gorillas again in Volcanoes, Rwanda.
Planning to Go
Obtaining Visa
---
Acquiring your Rwanda visa just got much easier as the Rwandan government established a new visa regime starting January 2018. Presently, all travelers access visa on arrival at Kigali international airport. Also remember to carry other travel documents such as passports, medical certificates, insurance, working permits, and any other related travel documents. A single EastAfrican visa helps you to cross over Uganda and Rwanda. Read More
Packing list
---
To ensure a peaceful, comfortable and memorable safari to Uganda, Rwanda, the Democratic Republic of Congo and other African countries, traveler are reminded to carry a fully equipped packing list. This includes all that you a need on a safari such as appropriate clothes such as hiking boots, changing dresses, long-sleeved shirts, long pants, and rain jackets to deal with the unpredictable weather conditions. Read More

Obtaining gorilla permits travelers must have gorilla permits without which no one is allowed to see
---
these gentle giants. Due to the high demand for the permits, travelers are required to book as early as six months prior to the trekking date. Booking can be done directly with the Rwanda Development Board (RDB) in Rwanda or Uganda wildlife authority (UWA)in Uganda. Alternatively, you contact info@rwandagorilla.com to arrange for you a gorilla tour at fair prices. Read More
Seek medical services travelers planning
---
African safari are reminded to seek medical services and advice before setting off. This is to prevent any upcoming sickness and ensure good health able to do all activities such as the memorable gorilla trekking experience among others. Fortunately, all tourism destinations have also established international hospitals to provide excellent medical services to travelers. Read More